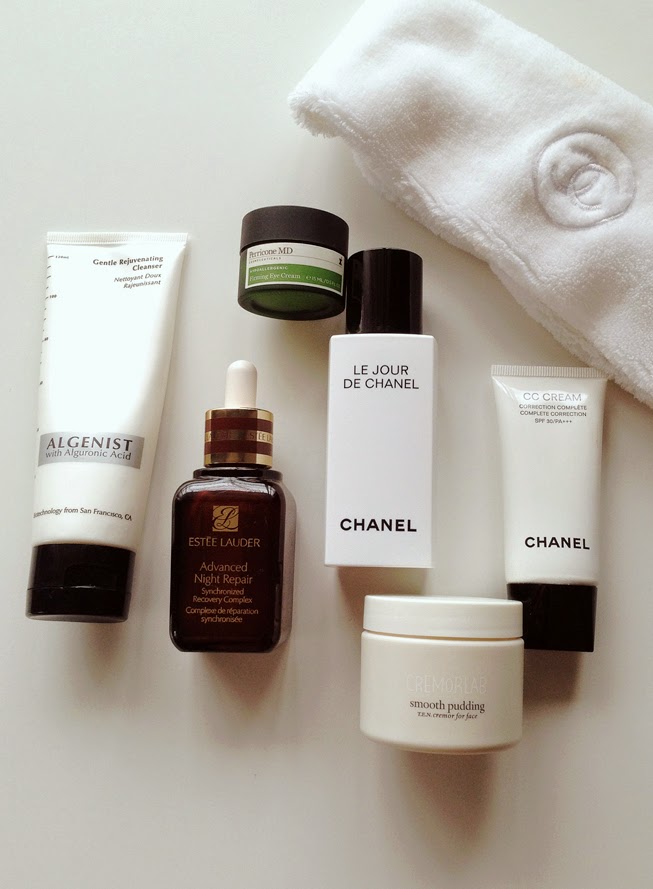 I wouldn't say my skin is normal and fine. Some days I would wake up, looked at myself in the mirror and see lines, acne, scars and dilated pores!! Some days I think those pores are forgiveable and those lines are not as obvious. Despite all these judgemental behaviour over my own skin, I do take good care of them. I have combination skin with oily T-Zone and mostly dehydrated cheeks. Staying in a tropical weather isn't helping either. The humidity and the food we eat do contribute to my occasional break out. All I can do is to try my very best to take good care of my skin with religious skincare routine day and night. These are some of the products I'm currently using and I believe it's actually working well for my skin =)
Algenist Cleanser: This foam cleanser is superb! I bought this from a Sephora outlet and totally love it! I usually double cleanse with this after my make up has been removed. It cleanse well without irritation and dryness. Prior to this, I was using Murad's Clarifying Cleanser and it's just as good but it got a little dry on my skin.
Perricone MD Eye Cream: I swear on this eye cream! I even got my bf to use it and he was in love with it too! It has a velvety texture and it penetrate quickly without leaving sticky residues. It's great for fine lines, dark circle and loss of firmness. This is our 3rd bottle now. Till we find a better replacement, we'll stick to this.
Estee Lauder Advanced Night Repair: I've used this product for…let me see.. 10 years? It's a day and night must-use for me. Probably my youth has been preserved by this magical item. LOL! Jokes aside, this product is a great anti-aging product. Many years ago, I had chicken pox and it itches! Instead of using calamine on my face, I actually used Advanced Night Repair. No itchiness and no pain after application. My skin was really smooth too after the pox were gone. I would highly recommend this to anyone at any age.
Le Jour De Chanel: This is a new addition to my morning routine. I was looking for something to even-out my skin tone and found this really good. It contain Salicylic Acid which gently exfoliate and grasse jasmine extract that smooth the skin. The texture is gel like and it absorbs very quickly.
Cremorlab Smooth Pudding: This item has also been added into my morning routine recently. I must say this moisturiser has been good to my skin so far. I usually use a lighter moisturiser in the morning. Since my concerns are wrinkle and hydration, this moisturiser fits into the category perfectly. The texture is exactly pudding-like and it's actually kind of hard to use my fingers to dab on the cream. I needed to use the scoop to get the cream, which is good actually. It's cleaner that way. This moisturiser absorbs really quickly. So far, I'm loving it! You can read more about Cremorlab here.
Chanel CC Cream: Last but not least, the must-have sunblock! To me, this is a fusion of a lightweight foundation and sunblock. If I needed a thicker makeup, I would use a foundation on top of this CC Cream else, I'll usually just add on blusher, mascara and lipgloss.  The texture is thicker than the usual sunblock but it didn't clogged my pores at all. This is my 2nd tube of CC Cream and I'm still loving it!