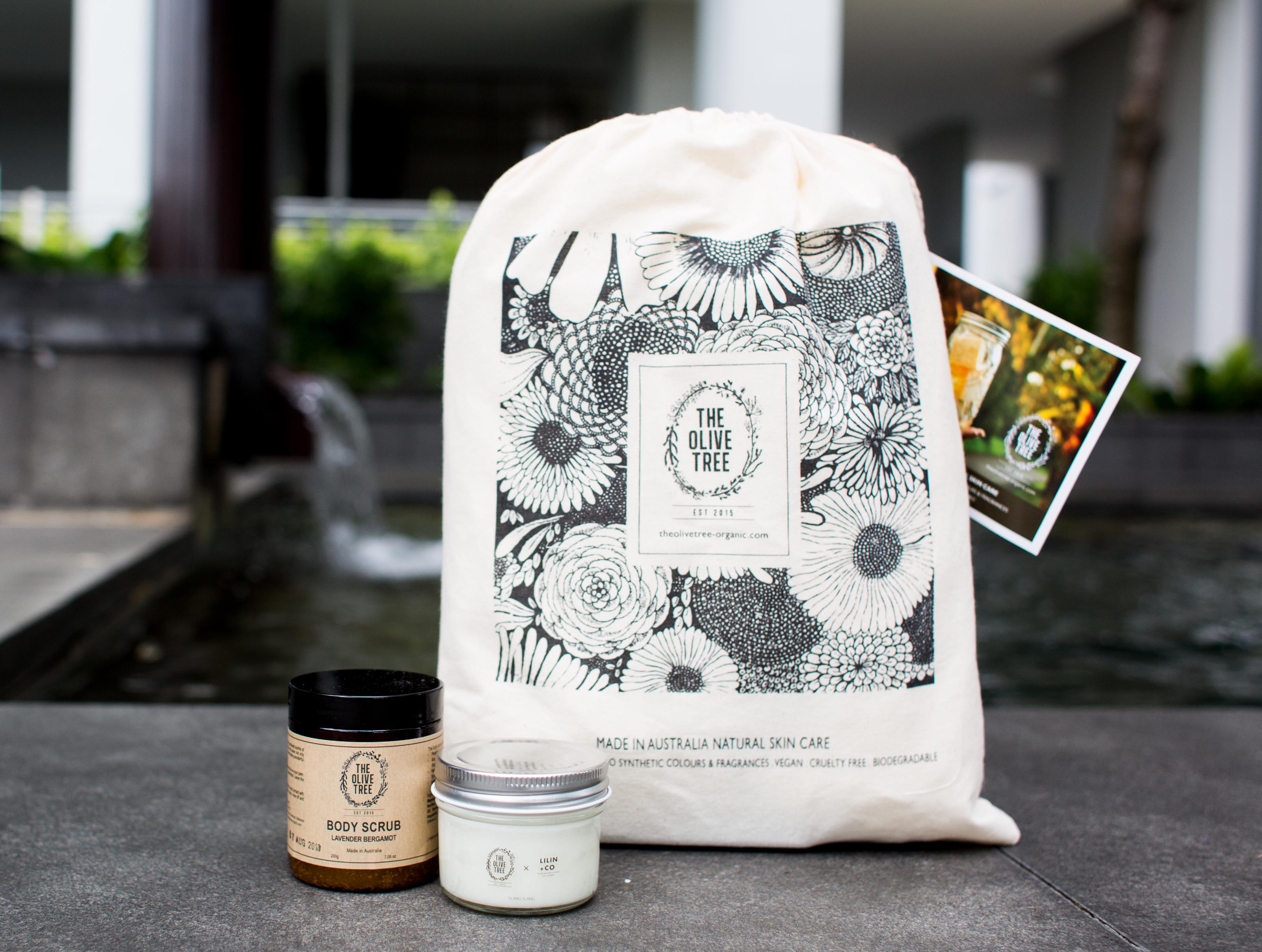 There's so much to celebrate at The Olive Tree. This year, they celebrate the terrific-two! Also, The Olive Tree celebrate Christmas by giving back to our mother nature. They are going environmental friendly a 100% which includes gifting without unnecessary packaging.
I might not be the most environmental friendly person, but whenever there is a chance for me to do the right thing, I would try my best to get involved. I stood by The Olive Tree's motto on doing good to our mother earth. Personally, I love their Lavender Bergamot Natural Hand & Body Wash. I purchased it 3 times and each time, I brought the bottle back to be recycled. It wasn't the reward that I'm aiming for but when there's a chance to recycle, why not do so?
Since we speak about giving back, here are some frequently asked questions about The Olive Tree's activities. Let's see what The Olive Tree has in store for us this Christmas.
What is The Olive Tree's key theme for Christmas 2017?
We realized that for the past two Christmases, our gift packaging which was usually used only once mostly ended up in the bin after the gift was unwrapped. As such, we tasked ourselves to develop a more meaningful gift packaging for Christmas 2017 which reduces waste, recycleable and reuseable. Let's make a difference this Christmas by gifting without the unnecessary packaging.
What is the inspiration behind this year's Christmas packaging?
I got the inspiration from an Indonesian hotel's laundry bag which I got five years ago. Till this day, I still bring along the said laundry bag with me whenever I travel.
The Olive Tree's Cotton Bag is lightweight, versatile and portable. You may use it as a toiletry bag, laundry bag, gym bag, shoe bag or grocery bag. There are just so many ways to use the cotton bag due to its versatility.
During this Christmas period, we will be giving away The Olive Tree Large Cotton Bag with every purchase of The Olive Tree Gift Set. Apart from this, we will also organise a special event at our stores at 1 Utama & Pavilion that offers personalization services. Spend RM 300 & above, customers get to personalize their name on The Olive Tree Cotton Bag.
We would like to encourage our customers to shop with us by reusing this cotton bag. Each time they bring along this cotton bag to make a purchase at our store, they will be rewarded with a RM 1 cash rebate to offset against their purchase as a token of our appreciation to them for using less single use paper bag.
What does reducing waste mean to you?
It was reported in The Star recently that The Malaysian Plastics Manufacturers Association estimates that the average citizen uses 300 plastic bags a year. Based on a population of 30 million, this adds up to nine billion bags used and thrown away, annually.
These plastic bags take hundreds of years to decompose and normally end up in our oceans, drains, streets and landfills. They leach chemicals and toxins into surrounding ecosystems, contaminating water supplies from ocean water, marine life and plant.
We strongly believe that it is not that we do not care about the impact of our plastic bags usage, we are just unaware about the adverse impact. Each of us can make a huge impact in our homes by making small changes in our routines like saying NO to the following:
No plastic bags – Bring your own cotton bag, recyclable bag or container
No straws
No coffee take-away cups – Bring your own mug
No mineral water bottles – Bring your own bottles
No wastage of food
The Olive Tree is using PET bottle for all liquid products, how would you address this in terms of using less plastic?
Our ultimate goal is to provide refill services at our stores where customers can bring their own bottles to refill any liquid products. We will be starting this service at a Zero Waste community center called The Hive Bulk Foods at Bangsar where the Zero Waste community can purchase their food and essential items by bringing their own bottles or packaging.
Apart from the above reward program of Bring Your Own Cotton Bag, we will continue with our existing recycling programme where customers who bring back their used The Olive Tree bottles to our stores are given RM 1 cash rebate for each bottle to be offset against their purchase. These used bottles will be given a new lease of life and be reused at The Hive Bulk Foods.
More Christmas Special In Store & Online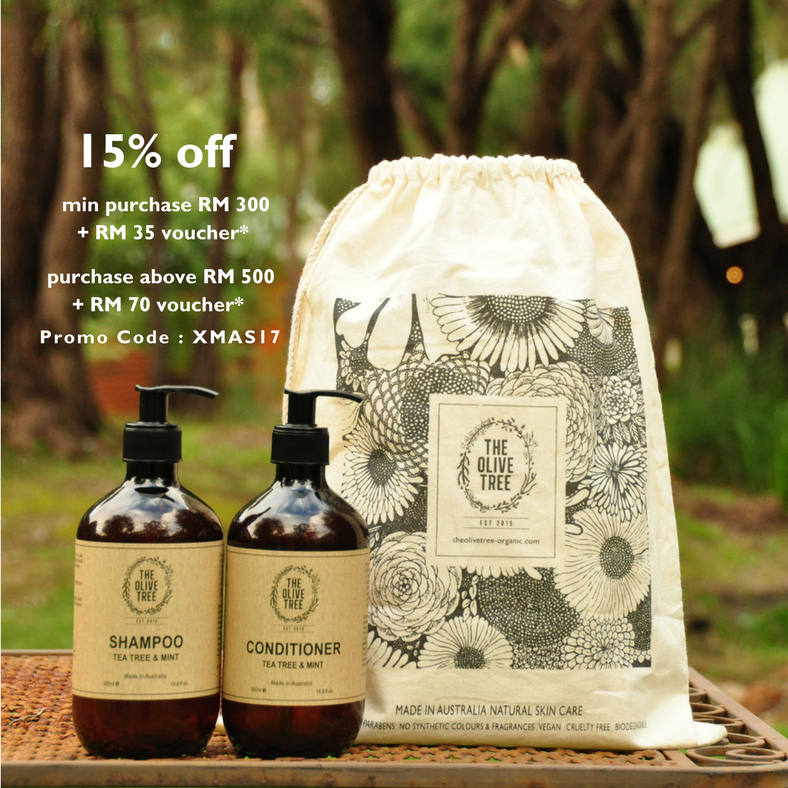 All products of The Olive Tree are available for purchase online through www.theolivetree-organic.com. If you purchase anything online till 1st January 2018, remember to use the promotion code – XMAS17 to get a discount.
If you happen to be n One Utama Shopping Centre, drop by the New Wing's Concourse area and look out for the Pop-Up Store. Looking at the pop-up store, it felt like a cozy home with a beautiful backyard and it's Christmas! How cool is that? The Olive Tree pop-up store will be there till 26th December 2017.
Trust me, you'll love The Olive Tree's products. I've personally used many products from The Olive Tree and had been buying them online for myself. I even bought them as Christmas gifts because I believe in the products. I'm sure it'll be off good use for my family and friends.
Are you into organic/vegan products? Do you recycle as well?