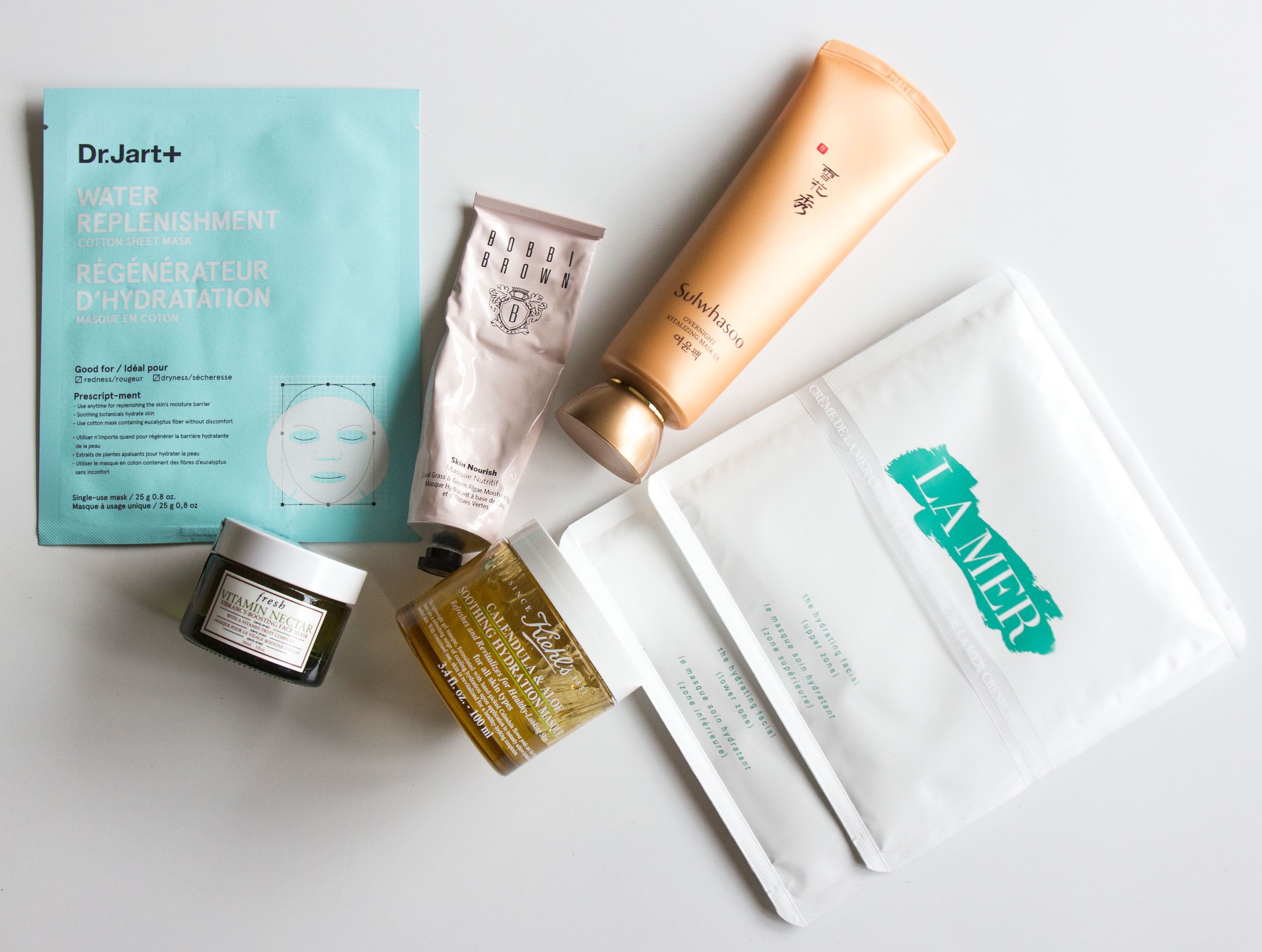 There are so many mask in the beauty hall these days. Sometimes, you asked yourself how do you pick the right one for yourself? You have to know what you really want out of a mask. There are variety of masks such as lifting mask, hydrating mask, brightening mask, anti-aging mask and etc. After your decision on what sort of mask you want for your skin, then we go into the types of mask. You are able to choose from sheet mask to cream mask to clay to charcoal. Whoa..and the list goes on! Overwhelming just to pick one don't you think?
Not to worry. We are here to discuss one thing at a time with you regarding mask. In my opinion, nothing beats a good hydrating mask. When Yen and me found them, we know we have hit the jackpot. Hydrating mask are not only great to keep your skin supple and plump, it also keep those fine lines at bay. If you put a little more effort in applying hydrating mask more often, it'll even keep those pimples in control and diminishes the appearance of your acne scars.
Here are a lists of 6 Best Hydrating Masks, both of us tried and we swear upon them.
LA MER THE HYDRATING FACIAL – Recently Yen went to a beach vacation and packed this mask with her. She knew that she would spent loads of time in the sun so her skin would most probably be dehydrated. She ended up with a sunburn! So, she put this mask in the refrigerator to keep it cold. Then left the mask on her face for 30 minutes. It helped her to cool down the skin and ease the redness. La Mer The Hydrating Facial comes in 2 pieces. The upper piece and lower piece, so you can adjust it according to your face shape. This spun-lace cotton mask is embedded with tourmaline to quickly and generously hydrate the skin. Well, sometimes good things does come with a price and it sure applies to these

La Mer The Hydrating Facial Mask

. It comes in a box of 6 and it's selling at USD250. Yen swear by it and she use it occasionally or when skin is at SOS stage.
SULWHASOO OVERNIGHT VITALIZING MASK – After cleansing my face and preparing it for a good night rest, I put the mask all over my face avoiding the eye and lip area. Instead of ending the night routine with the moisturizer, I replaced it with

Sulwhasoo Overnight Vitalizing Mask

. Many believe that Sulwhasoo products have the bitter ginseng scent but I can assure you that this one does not. The mask smells like pearl powder or I would say, like a baby's skin. The mask is rich in texture, just like a moisturizer and it nurture your skin while you sleep. Much to my expectations, I felt glorious in the morning. With just one use, I can feel my skin being hydrated already. It kept me glowing all day. All you need to do in the morning is just to wash it with lukewarm water, do your normal morning face prep, and I'm good to go. The Sulwhasoo Overnight Vitalizing Mask at 120ml is selling at RM200.
DR. JART WATER REPLENISHMENT COTTON SHEET MASK – This is one fully loaded goodness in one cotton sheet mask. I was told that it is better to have it chilled in the refrigerator before use, and I did. After that, I took the kids to the beach. I believe this sheet mask is going to replenish all the goodness I may be losing under that hot humid weather. Guess what? It did it's job miraculous. I applied this mask as soon as I got home. I decided leave the mask on and finish the rest of my chores in the next 30 minutes. This mask fitted on nicely the entire time I was busy with my chores. It has the cooling effect with a fruity scent and it felt really good especially after exposing my skin to the sun. After 30 minutes, I removed it and massage the rest of the luxurious serum until it all absorbed into my skin. My skin felt so hydrated, radiant and silky to touch. This is one super hydrating serum mask that no one should miss.

Dr. Jart Water Replenishment Cotton Sheet Mask

 comes in per piece at USD7.50. Another alternative, which is just as good would be

Dr. Jart Mask Waterjet Soothing Hydra Solution Mask

which is selling at RM21 a piece.
FRESH VITAMIN NECTAR VIBRANCY-BOOSTING MASK – Smell, look and feel like marmalade. This is one face mask that you should layer it smoothly on your hands first before putting it onto your face. The revolutionary formula is powered by 50 percent crushed citrus fruits including oranges, lemons, and clementines. These pieces of citrus made it a little challenging to apply it immediately on the face. Instead of using a brush for application, I scooped an extensive amount onto my palm, smooth it out then using 2 fingers and gently smooth it all over my face and neck. I tried this mask on a lazy Monday afternoon, so the citrus scent gave me a pick-me-up freshness. After 30 minutes, I used my fingers to gently rub off the little citrus chunks off my face. Then I wash the rest off with cold water. The mask did make my skin feel and look more bright, smooth and clear. If you want to achieve a radiant complexion, this will be the mask you're looking for. It can be used daily, if you can make time for it.

Fresh Vitamin Nectar Vibrancy-Boosting Mask

is available at Sephora and selling at RM120 for a 30ml jar.
KIEHL'S CALENDULA & ALOE SOOTHING HYDRATION MASK – Calendula and Aloe Vera equal full of goodness with soothing and refreshing benefits at all time. Yen had previously introduced this mask

here

. She gave much compliment about this mask and I can see why. It has a very lightweight gel-like texture with relaxing scent of lemon and chamomile essential oils. I applied and left it on for about 15 minutes, then rinsed it off with lukewarm water. It instantly made me feel so fresh, pampered and revitalized. My skin felt moisturised and so soothing after every use. I've been using it everyday for a week and that's how much I love it! This one has won my heart and something that now had been added on in my beauty regime. I'd recommend this to anyone with a combination skin like mine.

Kiehl's Calendula & Aloe Soothing Hydration Mask

is selling at RM198 for 100ml.
BOBBI BROWN SKIN NOURISH MASK – This is another mask that Yen had previously blogged about 

here

and highly recommend it to anyone that needed instant hydration boost. She and her boyfriend went skiing and had a sunburn. Her solution was to leave this mask on for 10 minutes, then tissue it off after. You can take a shower or do any chores while waiting. She applied it for 3 days straight and the burn was totally under control. This mask is also very gentle around the eye area. If you have dehydrated skin around the eye areas and fine lines are starting to show, just apply it around those area and leave it on for 5 minutes, then tissue it off after. Use it on alternate days and you'll see those fine lines under control. Some might not like the slightly more greasy residue after wiping off with a tissue. I don't find that an issue as I use a toner to wipe it off.

The Bobbi Brown Skin Nourish Mask

is selling at RM177 at the store or you can find it online at

Sephora

.
I hope with the help of my reviews on these 6 best hydrating masks, you'll find one that suits you best. Have you tried any of these masks and which is your favorite?
*Pictures and informations by Diva In Me. This is NOT a sponsored post. Reviews and opinions are my own.