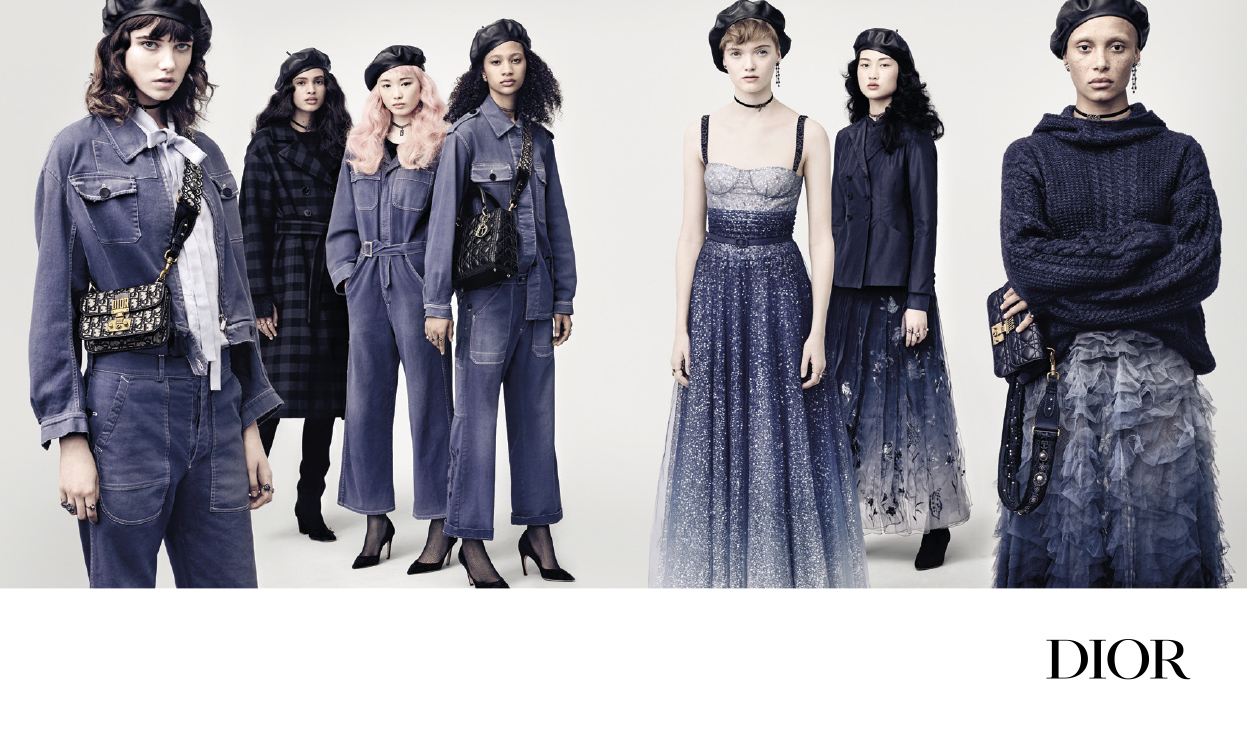 This Fall and Winter, it's going to be blue in the house of Dior. I didn't mean blue with sadness but, blue is a color that was among Monsieur Dior's great favorites. Hence, Maria Grazia Chiuri reactivate and explore the color blue for Dior Fall Winter 2017/18 – Ready To Wear.
"Among all the colors, navy blue is the only one which can ever compete with black, it has all the same qualities" wrote Christian Dior in The Little Dictionary of Fashion.
This collection is a sequence of pieces that reconnect emotions, feelings and memories. Maria Grazia Chiuri reinterprets the idea of the Chevrier look from the Haute Couture Fall Winter 1949. She revisit the extravagance of the original hood and redesigned it to a more contemporary and sporty attitude, which suits the current generation. Dior Fall Winter 2017/18 – Ready To Wear includes a series of jackets, skirts, dresses, capes, coats and small bomber jackets. Mostly in denim and blue, of course.
The color blue is acceptable in all gender, age and social class. Besides being the symbol of holy virgins and kings, blue is also the color of workwear. In this season, you can see blue everywhere! Blue is in loose pants, blouses and washed shirts. This give a new identity to the House of Dior's color story.
In my opinion, blue is easy to wear. Especially on denim! I can see myself wearing almost everything in this collection. Here are some of my favorite looks for Dior Fall Winter 2017/18 collection. Which is your favorite?

Below are some of the accessories for Fall Winter 2017/18 which accompanied the Ready To Wear show.
Last but not least, here are two videos from the Fall Winter 2017/18 campaign. Just like the previous
Spring Summer 2017
campaign, the talented French photographer Brigitte Lacombe was called once again to shoot for the Fall Winter 2017/18 campaign. This group of women in front of the camera, represents young women with strong and unique personalities. Together, they compose an image of a bold and daring Dior woman.
For more information on the Dior Fall Winter 2017/18 Ready To Wear information, please contact your nearest boutique. As for Kuala Lumpur, please refer below for contacts:
Location: Lot G23b – LC-G01 KLCC
Telephone: +603 2181 6685
Make an appointment for 1 to 1 service, click here
Location: Lot G20 – G28, Indulge Floor, Starhill Gallery
Telephone: +603 2143 1886
Make an appointment for 1 to 1 service, click here
SaveSaveSaveSave
SaveSave
SaveSave
SaveSave
SaveSave