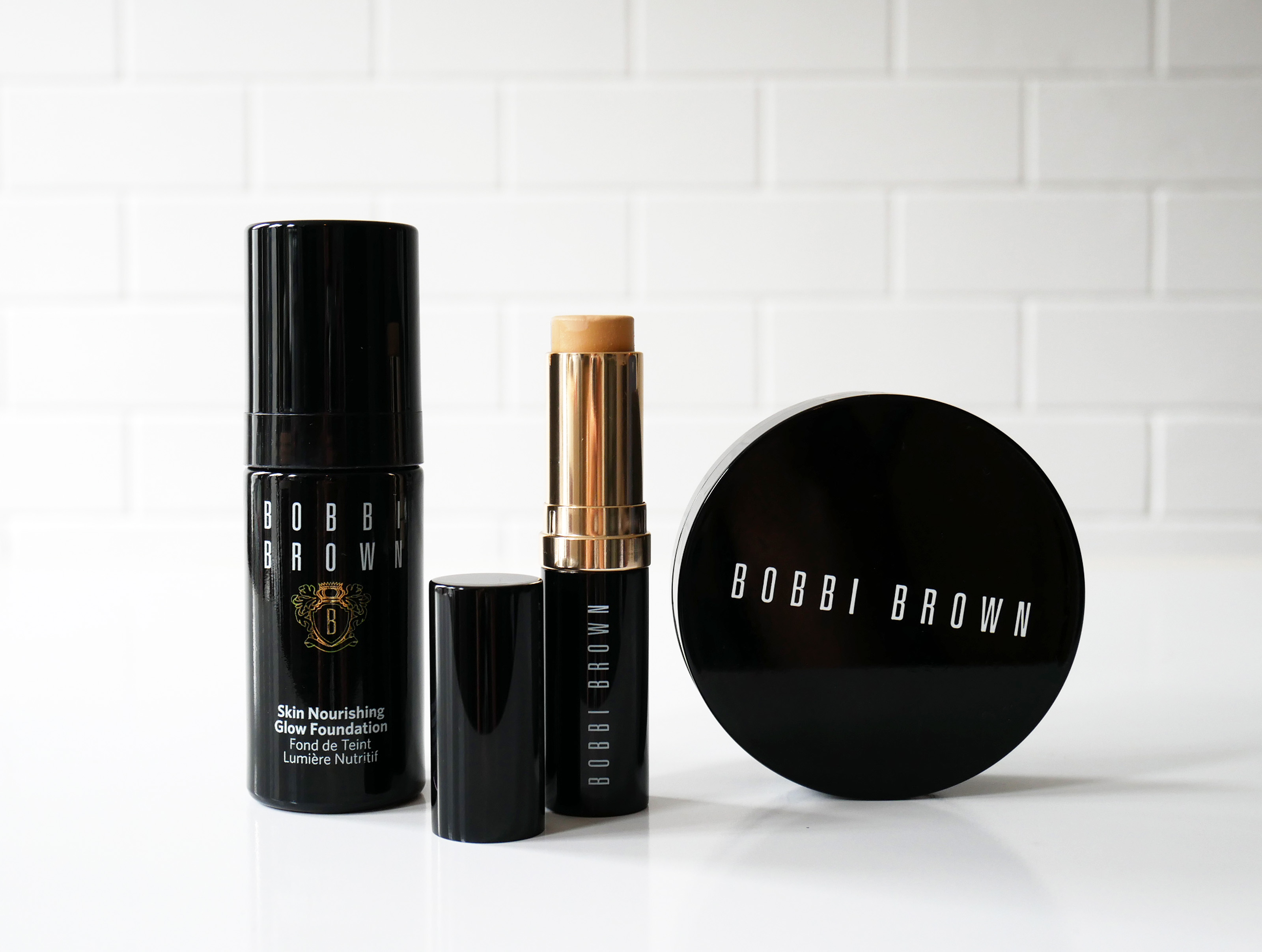 That is the Bobbi Brown's tagline. More than 25 years ago, Bobbi Brown created the first ever skin tone correct foundation to perfect skin. Not to cover it up! Since then, the brand had not stop developing countless cult-favorite formulas to ensure that you see perfect skin, not makeup.
Needless to say, Yen and I also believed in Bobbi Brown Cosmetics' philosophy. Once you've tried Bobbi's makeup, you'll definitely know what I'm saying. Here, I am going to share with you, the 3 different skin foundations. I will share what I think of them and when to use these foundations. Yen had also make 2 short makeup tutorial videos and hope you will learn some tips and tricks from these videos.
SKIN NOURISHING GLOW FOUNDATION
I had previously dedicated a post for Skin Nourishing Glow Foundation. This foundation is perfect for dry/combination skin. It's a light to medium coverage type of foundation and comes in 9 different shades. Yen is using Beige in the video.
Benefits:
It helps create a stunning make-up base, evens out skin tone, covers wrinkles and signs of aging perfectly well. You can go along and blend it with a good foundation brush or just use your fingers to tap the foundation onto your skin and blend it gently. Because it is smooth and dense, it will not sink in and stays perfectly flawless on top. To make it last longer than 6 hours, dab on some loose powder, if you want a matte look. Or you can layer it with a Foundation Stick (which we will talk about next), for a dewy finishing.
Disadvantage:
Though it may provide excellent coverage, your skin will look shiny after 3-4 hours if you have combination to oily skin. Nothing can't be solved. You just need to layer on some loose powder or pressed powder after a few hours. I could only wish that this foundation is infused with SPF without needing to apply sunblock.
Retail Price: RM205
Similar recommendation: Skin Foundation SPF15 (available at Sephora.com)
SKIN FOUNDATION STICK
A nude foundation stick with skin tone correct pigments to achieve an incredibly natural look. Its creamy yet weightless texture helps create an effortlessly fresh, clean finish. Suitable for  oily/combination skin. Medium to full coverage. Available in 31 skin tone correct shades.
Benefits:
I have oily/combination skin. This new formula is oily skin friendlier than the old formula. I can use it on any weather and it doesn't look messy and I never have problems with breakouts. It sits very naturally on my skin. With a blend of emollients-like olive extracts and shea butter to help keep the skin moisturized and light diffusing powders and oil-controlling minerals to help control shine. Yen used this on her T-Zone for an evening makeup instead of a loose powder. She wanted to create a dewy finish kind of makeup yet not oily on the T-zone.
Oh, and we learned from Bobbi Brown's Makeup Artist, that this can be used as a concealer too!
Disadvantage:
If you have dry skin, I believe it will not work as good on your skin. It will not be easy to blend and it might not sit well on your skin.
Retail Price: RM160 (available at Sephora.com as well)
SKIN CUSHION FOUNDATION COMPACT SPF35
A Nespresso-like capsule which contains the foundation and container which has a mirror and a closing latch. Refills available separately and in 31 shades. This cushion is suitable for dry to normal skin type with sheer to medium coverage.
This will go down in history as the best thing that could happen for ladies that want to achieve a no makeup, makeup. Yen swear by this! She carries it everywhere she goes. Hence, she made a video (scroll down) to let us ladies know that this natural makeup is achievable and it's easy. She love the scent too!
Benefits:
The Skin Cushion Foundation Compact is enriched with skincare benefits like Pink Silk Tree Extract and Caffeine which helps rejuvenate and re-energises with a moisture infused anti-pollution barrier and high SPF coverage. Because of its ingredients, it is great for dry skin. If moisturised well, it will look glowing and effortless. It is convenient to carry around. Especially great for afternoon touch ups and still achieve a natural, dewy look.
Disadvantage:
This might not be your choice of foundation if you have obvious skin imperfections (and want to cover it up). It doesn't provide full coverage therefore it is difficult to cover imperfections. It dries quickly so you need to dab it fast, else you will see blotches on your skin.
Retail Price: RM145 (available in Nordstrom)
Refill Retail Price: RM40
Similar recommendation: BB Cream SPF35 (available at Sephora.com)
It is best that you know what skin type you have first and then find the best foundation that suits your skin before you purchase any of Bobbi's Skin Foundations. After that, you can look into the shades that suits your skin tone best. From its many choices of shades, I'm pretty sure there is one shade that will match your skin best and make your skin exceptionally beautiful.
Have you tried a Bobbi Brown Foundation? Which is your favorite?
*Photo shoot and video shoot in collaboration with Bobbi Brown (Malaysia) otherwise stated. Reviews and opinions are my own.
SaveSave
SaveSaveSaveSave
SaveSaveSaveSaveSaveSave
SaveSave
SaveSaveSaveSave
SaveSave
SaveSave