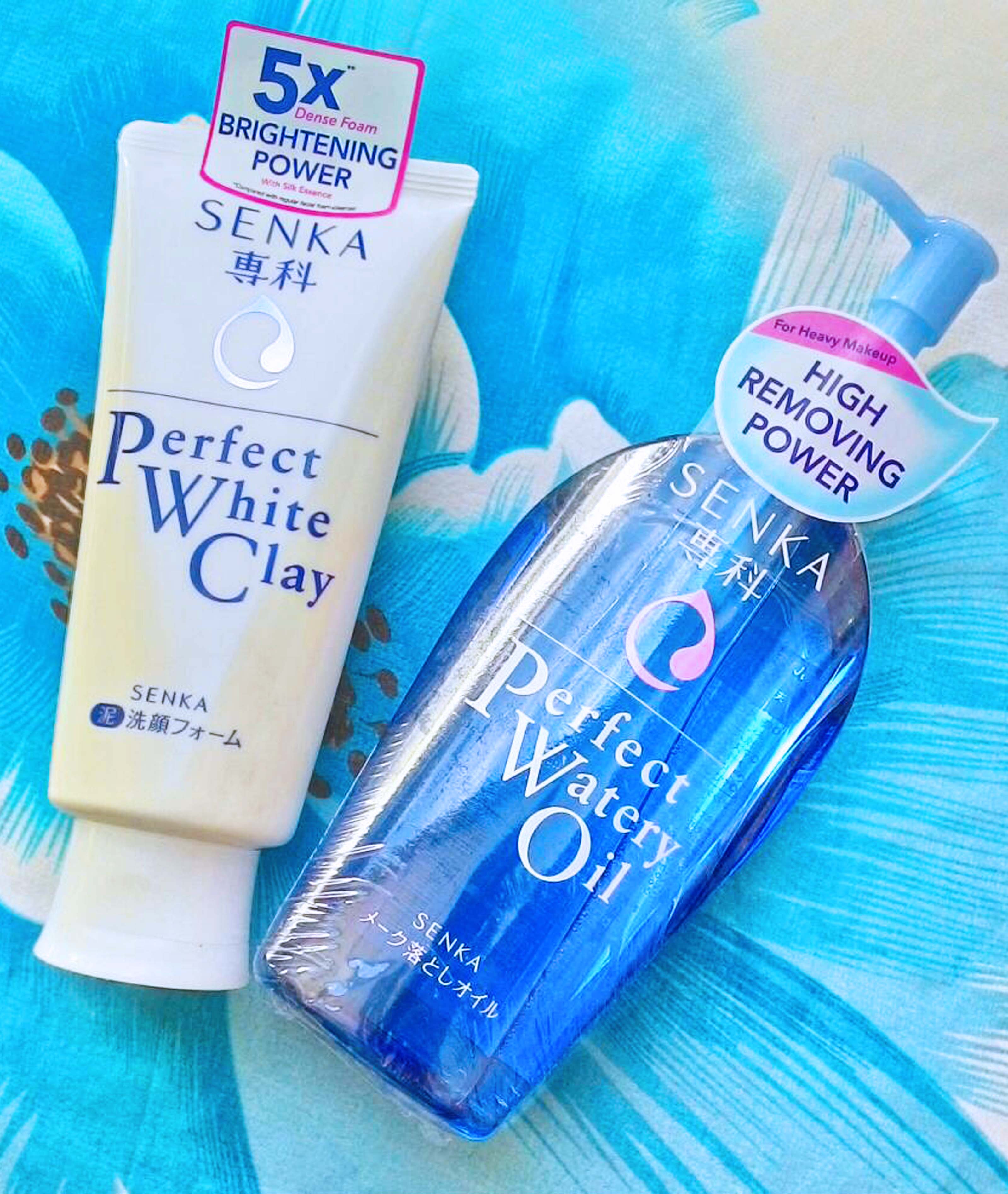 I've never really been a loyal user to any Japanese Skincare Products. I've always played it safe using what my skin feels best. Whether it's a drugstore brand or a little luxury on the price tag, it never really mattered to me much as long as it does good to my skin. A couple of weeks ago, I was introduced to Senka by Shiseido Perfect White Clay Cleansing Foam and Perfect Watery Oil Makeup Remover.
A little introduction about Senka. Well, Senka is like the little sister of the famous Shiseido family. Senka is young, fun and affordable. They're available at the drugstore such as Watsons. Where else, Shiseido is the older sister who is more established and who has been around for a while. Lets take a closer look at 2 of Senka's famous products.
PERFECT WATERY OIL MAKEUP REMOVER
What it says:
An innovative watery oil that demonstrates high cleansing capabilities while remaining gentle on skin. Includes naturally derived Silk Essence and Dual Hyaluronic Acid to protect the skin's natural moisture and reveal smooth and hydrated skin.

With its gentle melting texture, the watery oil coats the skin pleasantly, dissolving makeup and sebum embedded in the pores so that it can be easily washed off. Includes a mascara-removal ingredient to easily remove waterproof mascara.
How to use it:
Take an appropriate amount of pumps onto your palm and massage gently to face to dissolve makeup. You can also use it on a cotton pad and rub in gently onto your eye area to remove stubborn makeup especially mascara. Rinse thoroughly with water.

My verdict:
When I first knew that it is an oil based makeup remover, I was sceptical to try it. Oily products never worked good on my combination skin. So, instead of using the makeup remover directly all over my face, I only use it on the part of my face that has the most makeup – my eyes. To my surprised, it removes waterproof mascara instantly! For the rest of my face, I wiped it with a single cotton pad. Though its texture is very oily, after washing it with water, it isn't that oily after all.
My advice, if you have oily or combination skin like mine, use it sparingly. It worked perfectly well for me, no wonder it is called Perfect Watery Oil. Double cleanse with Perfect White Clay Cleansing Foam to give you that squeeky clean skin.
PERFECT WHITE CLAY CLEANSING FOAM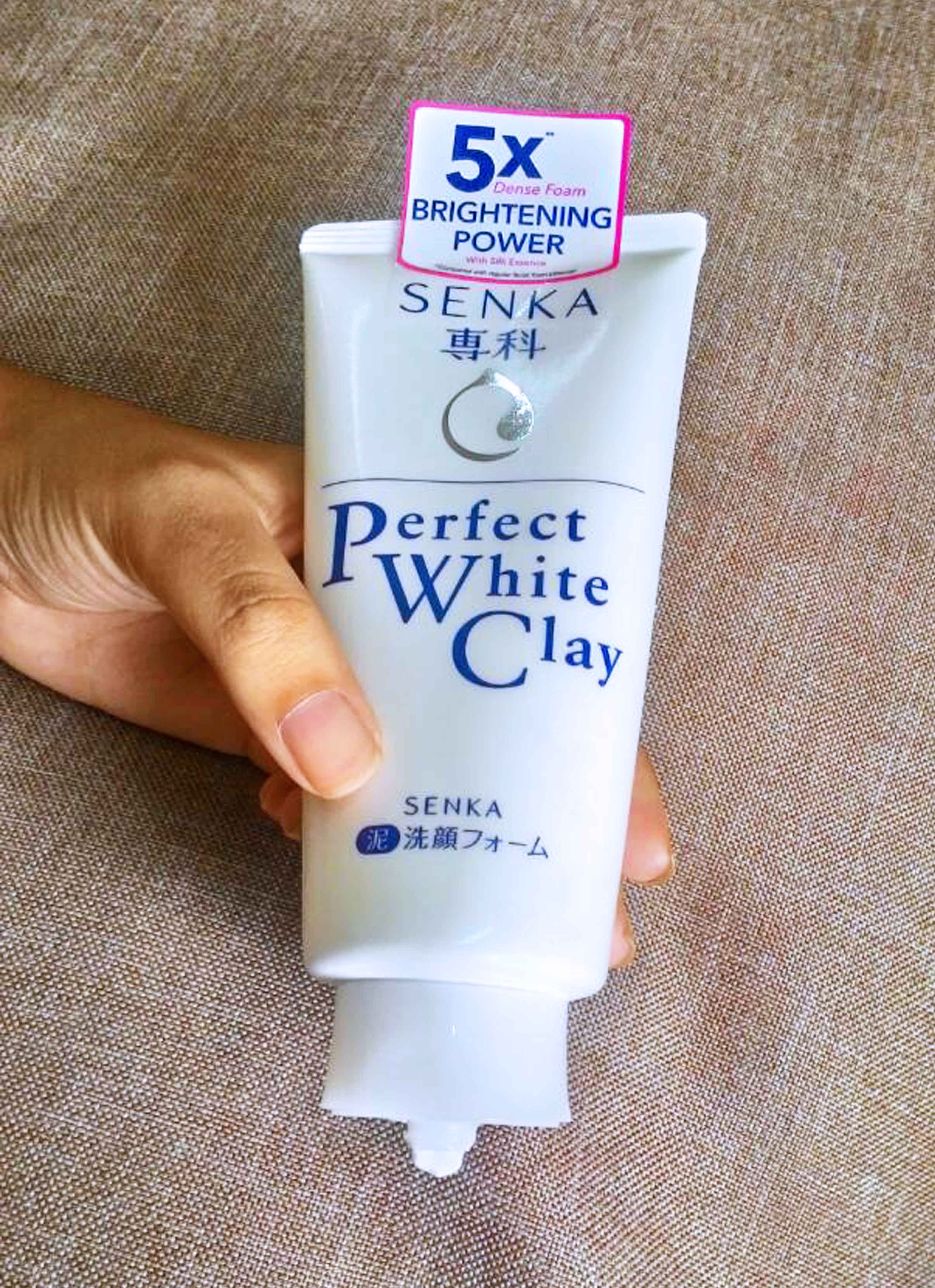 What it says:
Senka Perfect White Clay Cleansing Foam is blended with white clay. The cleanser clears dullness caused by dead skin cells and impurities lodged deep inside the pores and removes them to brighten the overall skin tone. It is claimed to have 5 times Dense Foam Whitening Power with Silk Essence and Dual Hyaluronic Acid compared to a regular facial foam cleanser. This cleanser cleanses deep to reveal natural skin that is smooth and translucent.
Ways to use it:
Get a decent amount of cleanser onto palm, add a little water and work into a lather. Apply onto face and massage well then rinse thoroughly.
My verdict:
It is a rich clay wash and not really foamy. The texture is fine which is very soothing to the skin. It has a light floral scent as well.. This cleanser is rich and generous after lathering with water. It didn't make my skin feel dry and tight after the wash. In fact, my skin feels more fresh, supple and soft to touch. I have a combination skin type and I strongly believe that clay cleansers worked well for me. After a good two weeks of trial, my skin looks brighter and translucent. Skin feels fresh, clear and rejuvenated.
MORE INFORMATION ABOUT SENKA:
Perfect White Clay 120g retails at RM16.90
Perfect Watery Oil 230ml retails at RM52.90
Facebook: https://www.facebook.com/SenkaMalaysia
Available at Watsons
Senka might be young but they're definitely worth a try. Have you heard of Senka?