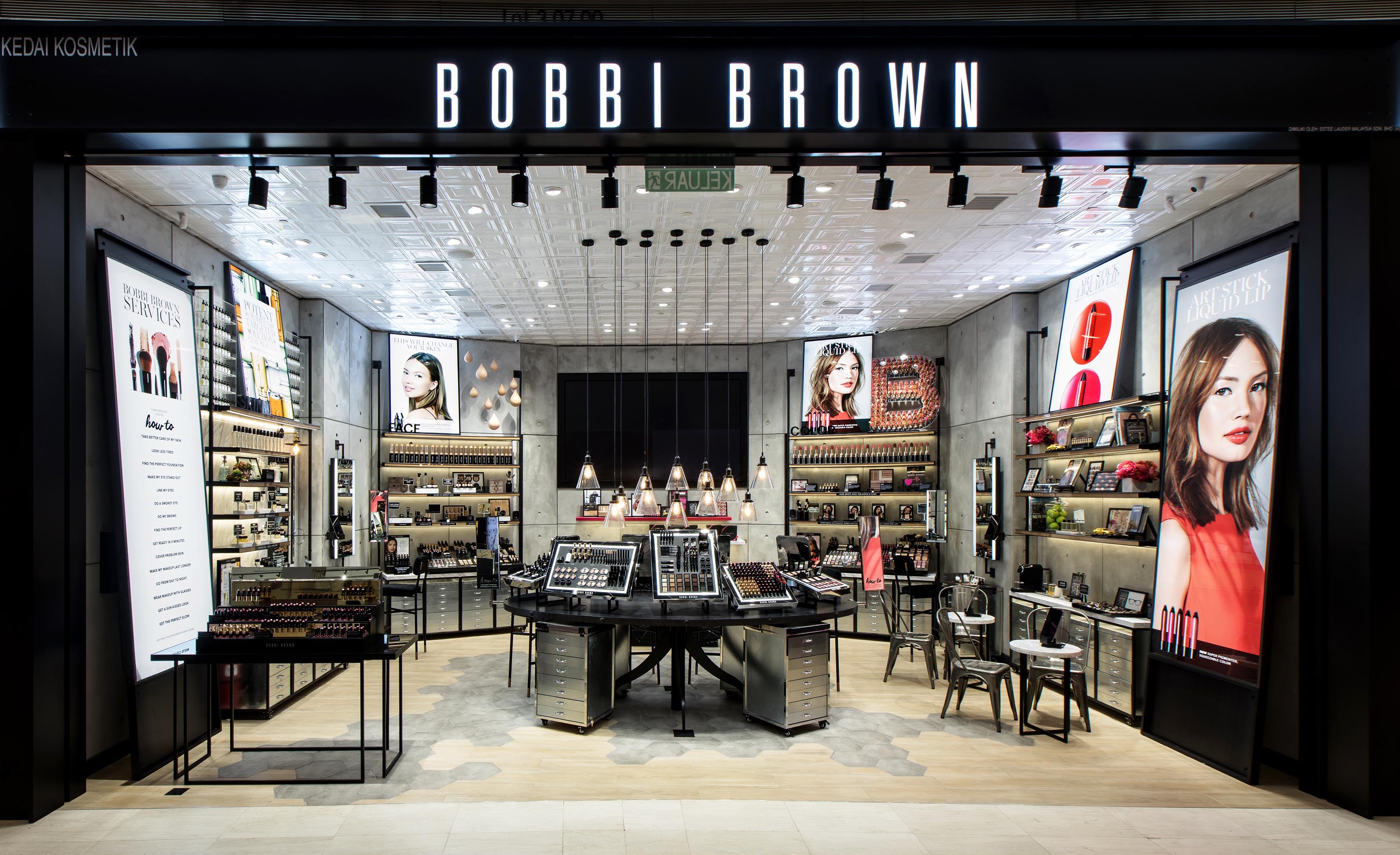 Some time ago, Bobbi Brown Pavilion Store was temporarily closed. It was re-located, re-modeled and now re-open! Looking more chic than ever, the store is an expression of Bobbi's unique philosophy and aesthetic. The perfect way for consumers to discover Bobbi's range of color cosmetics, brushes, fragrance, skincare and expert services.
This latest concept by Bobbi Brown makes me feel like New York just landed in Kuala Lumpur. It has the New York loft vibes.
When visiting the Bobbi Brown store at Pavilion Kuala Lumpur, consumers have the freedom to design their own shopping experience. There are so many things one can do such as getting some makeup tips, browse the limited edition products, or even just to watch a video of Bobbi's seasonal inspirations. Let me take you on a virtual tour of this Bobbi Brown Pavilion Store.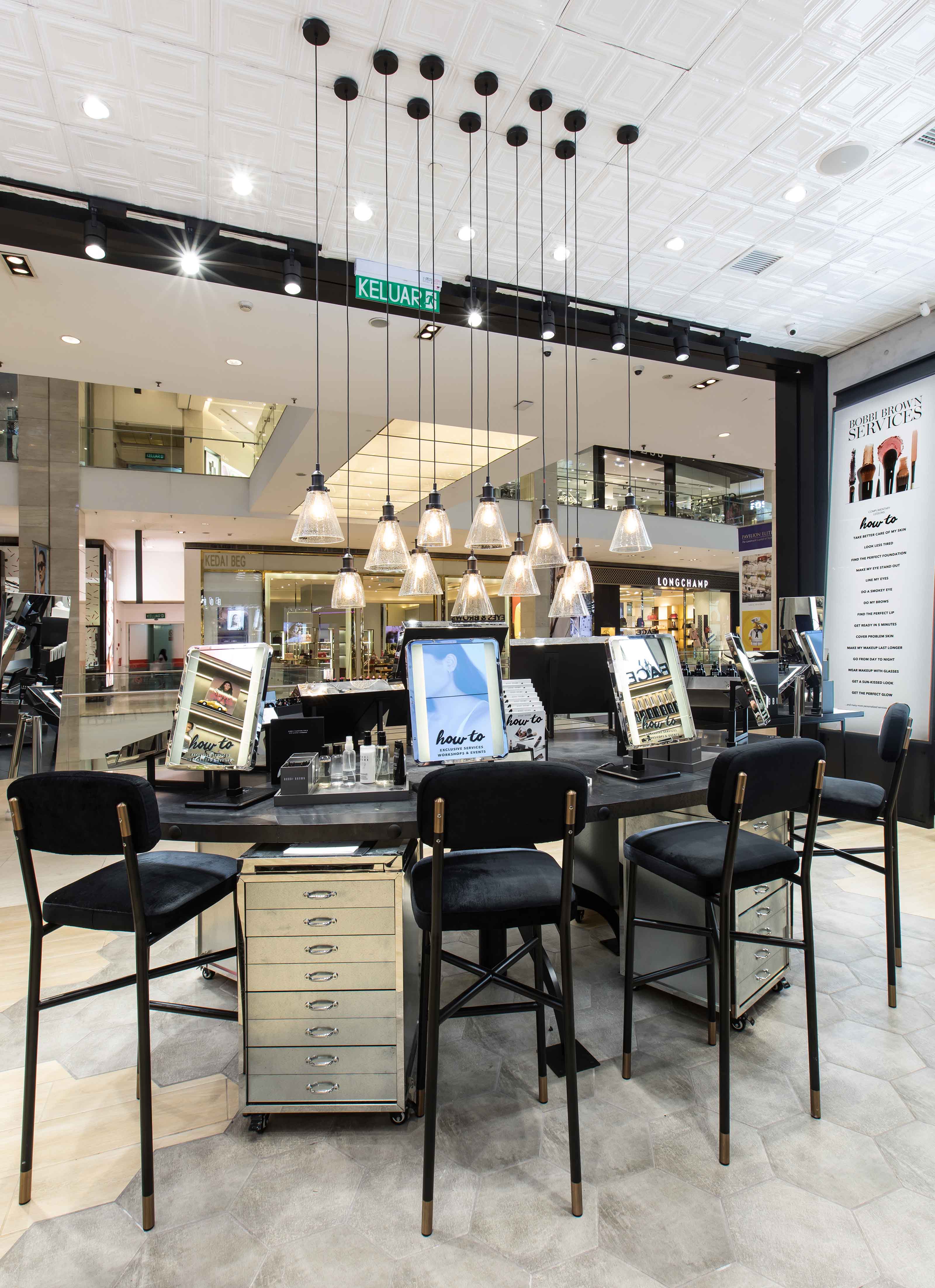 THE DESIGN
Bobbi's makeup and style are definitely reflected in the design for this store. This design is clean and modern using architectural details such as industrial steel cabinetry and Carrara marble. While an abundance of natural light, makes the space feel like a chic Soho loft. There are 3 main parts in this new store – The Communal Artistry Table, Product Wall and Inspiration Wall. My favorite among the 3 is the Inspiration Wall because I get to know more about Bobbi by just browsing through her favorite things.
Communal Artistry Table – The heart and center of the store.  This table invites consumers shopping alone, as well as larger groups.  They can test products on their own or enjoy on-the-spot makeup lessons from our Makeup Artists.
Product Wall – Introduces the consumer to key product categories. It will be updated regularly, and include framed inset niches for product along with large visuals.
Inspirational Wall – Includes local press placements, as well as pages from Bobbi's sketchbook and concept diary. This wall introduces consumers to Bobbi's many facets – makeup artist, entrepreneur, lifestyle expert, philanthropist – and illuminates the inspirations and concepts behind top Bobbi Brown products. 
My advise: If you're unsure where to start, always check out the lipstick first. It's affordable and I'm sure you'll find a shade that you love. Then go on to explore the Foundation since this is a Bobbi Brown store. You'll never go wrong with Bobbi Brown's Foundation.
THE SERVICES
Teaching is a key component of Bobbi's philosophy. Inspired by the belief that it's about offering "makeup lessons not makeovers," her professional makeup artists teach women to be their own beauty experts. Before applying makeup, each artist takes into account a woman's personal style, her lifestyle and her preferences. If you're unsure what to do, do not hesitate to get a consultation from a makeup artist at your nearest Bobbi Brown store. Every Makeup Lesson concludes with the creation of a personalized face chart to help a woman recreate the look at home.
On the grand opening of Bobbi Brown Pavilion Store, Felix Nguyen, Regional Education & Artistry Manager for Bobbi Brown Asia Pacific was present to share some makeup and skincare tips. Those of us who attended the grand opening were very fortunate to get to see him live in action! Here are some tips and tricks I learn from him and sharing it with you. Hope it'll be able to help you too.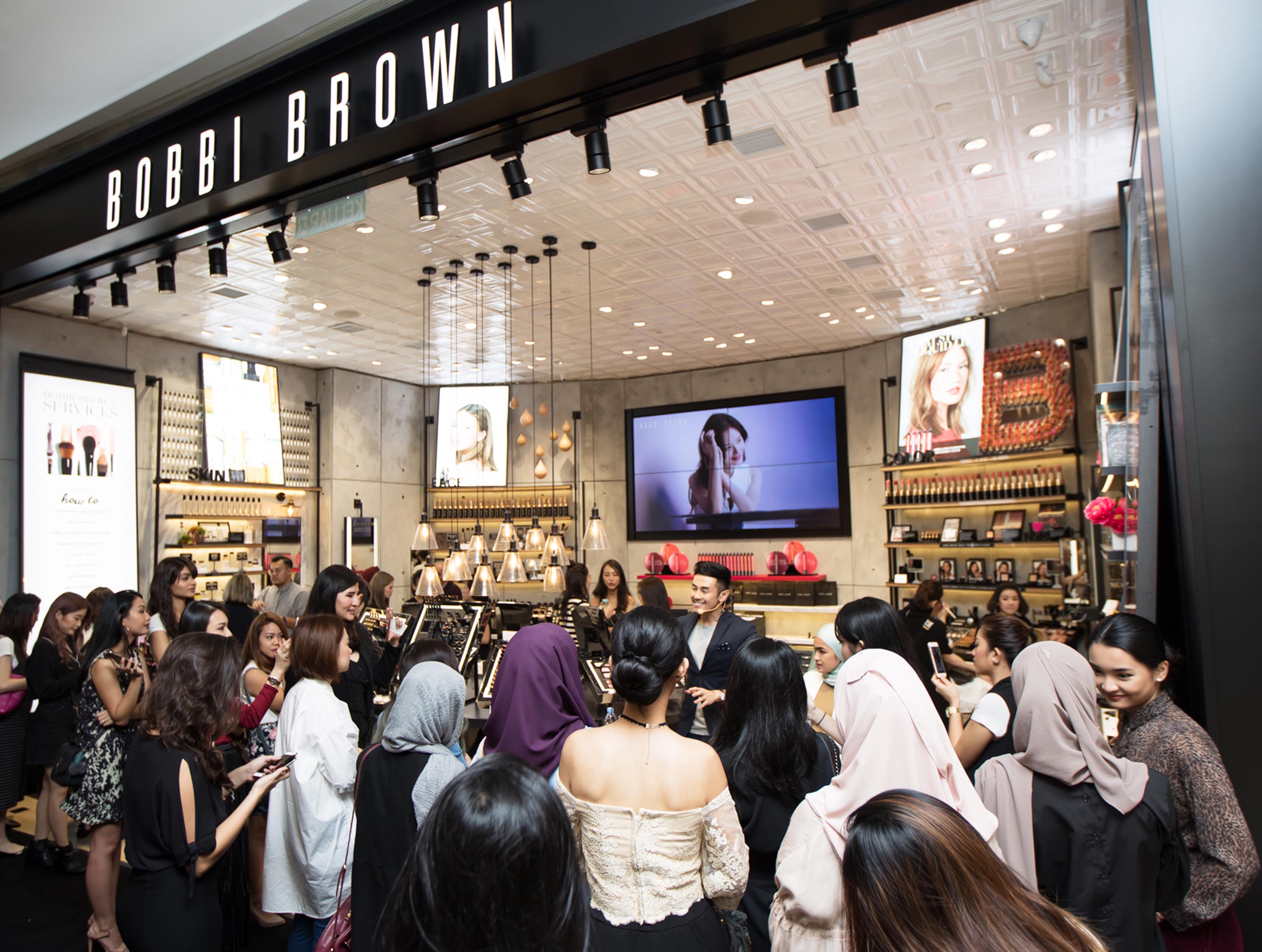 Always make sure you apply skincare before putting on makeup.
Issues with dark circles and lines? Apply concealer on under eyes and lines by the side of your nose.
If you would like to achieve those glowing and healthy skin, apply some oil but use it sparingly. Only dab it on the cheekbones and not entire face!
Loose powder should only be use on areas that's necessary. For instance, T-Zone.
The best way to use a cream blusher, is by using a brush. Use the brush to dab it on the blusher, then dab it on your palm first before brushing it all over cheeks. After that, blend it with a foundation brush if need to.
If you would like to use a bronzer, chose a natural color. Use a brush and glide it on your cheeks following your face shape.
Last but not least, brush those highlighter on your cheekbones, forehead (nearest to your hairline), slightly on nose and chin.
MAKEUP MENU
If you are unsure what sort of makeup suits you, or what products suits you best, do drop by to your nearest Bobbi Brown store. The makeup artist will be happy to assist you in understanding makeup and skincare. Also, if you would like to learn how to create certain looks, here are The Menu of Services at the Pavilion Kuala Lumpur Bobbi Brown counter:
HOW TO: DO A SMOKEY EYE – The secret to the perfect smokey eye—layered shadows.
HOW TO: GET THE PERFECT GLOW – Get the look of fresh, healthy, glowing skin.
HOW TO: GLAM IT UP – We'll show you how to make an entrance.
HOW TO: TAKE BETTER CARE OF MY SKIN – The right skincare will instantly give you a pick-me-up.
HOW TO: LINE MY EYES – Powder, pencil, gel, liquid–here's how to get your eyeliner right.
HOW TO: GET THE BOBBI BROWN LOOK – Fresh, clean and modern–you but better.
HOW TO: DO THE NUDE LOOK – Nude makeup is about what's right for your skin tone.
HOW TO: MAKE MY SKIN LOOK BETTER – Our tips for skin that looks like skin.
HOW TO: GET READY IN 5 MINUTES – Quick, simple ways to look effortlessly pulled-together.
HOW TO: DO MY BROWS – The products and know-how to perfect your arches.
HOW TO: FIND THE PERFECT LIP – We'll show you how to find your most-flattering lip colors.
HOW TO: LOOK LESS TIRED – Our secret of the universe. Learn to use Corrector and Concealer for a fresh, wide-awake look.
HOW TO: GET A MAKEUP FACE LIFT – Look fresher, brighter and more lifted (no surgery needed).
BOBBI BROWN ULTIMATE MAKEUP LESSON – The best of our signature techniques in one comprehensive, 10-step lesson that takes you through face prep, eye makeup, lip color and much more.
LONG-WEAR. LIFE-PROOF. – Tips and techniques for long-wearing makeup looks that won't crease, flake or fade.
SECRET TO STANDOUT EYES – Learn to line, define and smudge your way to gorgeous eyes—from subtle to sultry, it's up to you.
SECRET TO PERFECT SKIN – From skincare to foundation, learn how to make your skin look flawless and beautiful.
BRONZE GLOW – Learn our quick and easy sun-free secrets to getting a healthy-looking glow. 
PARTY MAKEUP – Going out tonight? We'll get you ready with statement-making lips, gorgeous eyes and glowing skin.
MAKEUP FACE LIFT – Simple, surgery-free techniques for looking fresh, confident and gorgeous at any age.
BRIDAL BEAUTY – Planning your big day? We offer a range of looks that you'll love in person and in photos for years to come.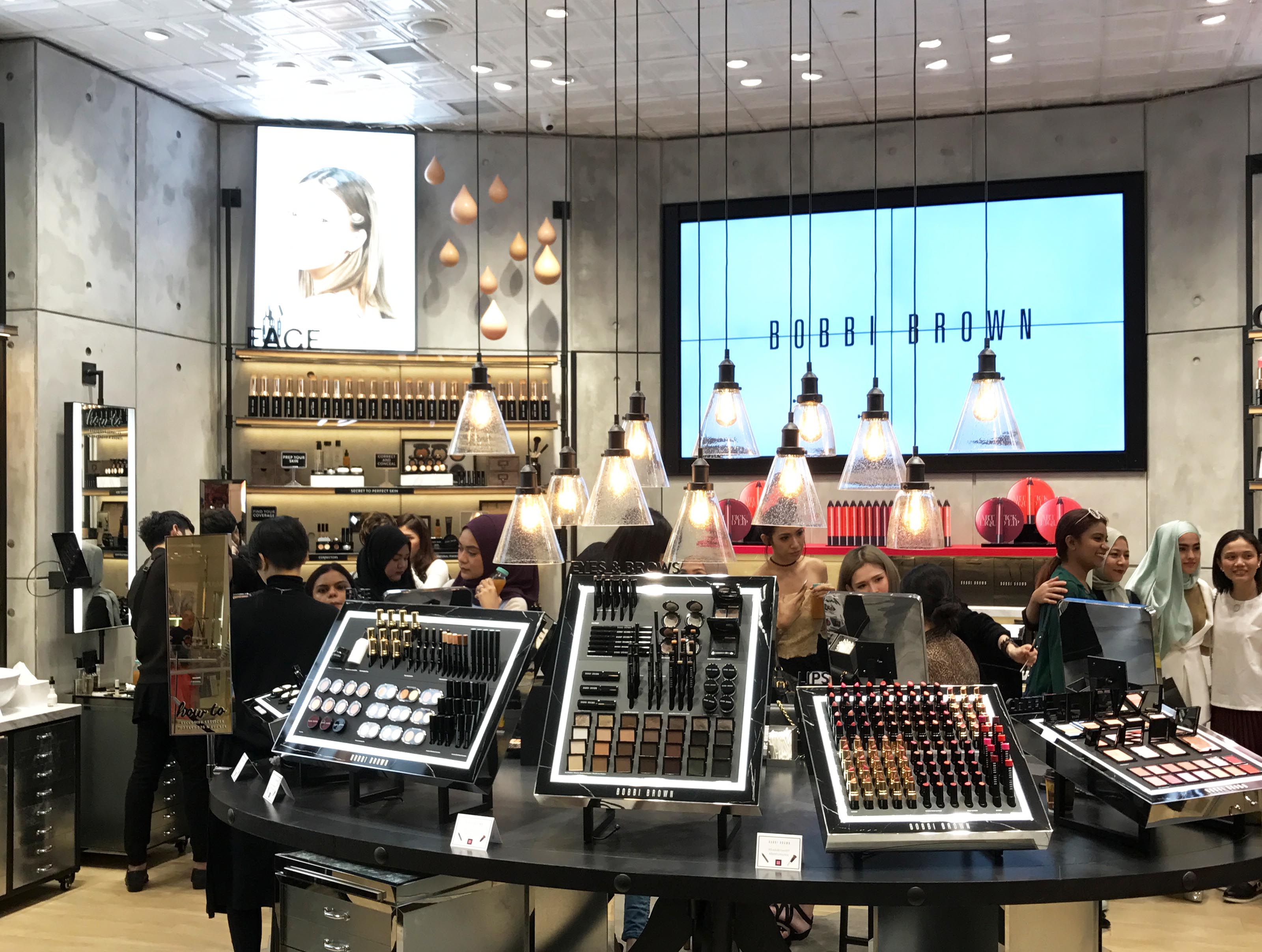 More information about Bobbi Brown Pavilion Store:
Address: Lot 3.07.01, Level 3, Pavilion Kuala Lumpur, 168 Jalan Bukit Bintang, , 55100 Kuala Lumpur
Tel: 03-2141 5405
Website: www.Bobbibrown.com.my
*Pictures by Bobbi Brown Malaysia otherwise stated. Reviews and opinion are my own.