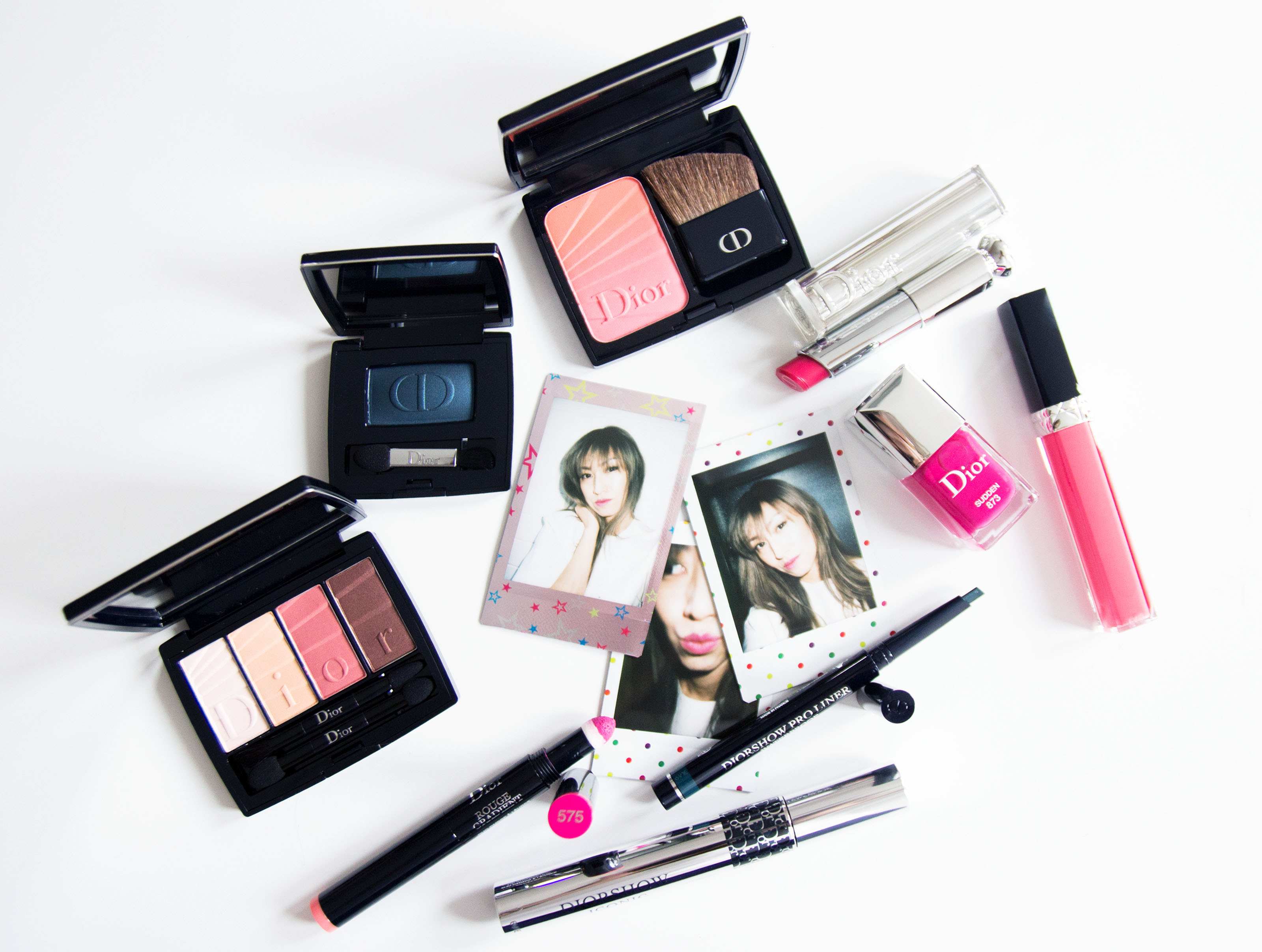 Spring is one of my favorite time of the year. Flowers are blooming, weather are just perfect and makeup are so colorful! Which bring us to Dior Makeup for Spring 2017 and it's all about Colour Gradation. Oh! You'll know what I meant when you see those pretty palettes as you scroll down.
I'm not saying you should wear makeup like the picture above and head out to work. If it's for your annual dinner and dance, then yes! Please take the picture above as an inspiration. You'll probably get a whole load of attention. What I'm trying to get at here is that, these colors are so vibrant! Don't you think?
They're different from the Splendor Collection, which are darker in shade. After trying these Spring 2017 colors, I find the color pigment stays pretty good and fresh. With just an ample amount, I can see those colors appearing on my Asian skin significantly. Let me introduce these lovelies that I've tried, one by one.
COLOUR GRADATION PALETTE
Don't you think this eye color palette looks like the setting sun? The pleating embedded on the eyeshadows are inspired by the Dior "plisse". Even though it looked like a powdered eyeshadow, when I applied it on the eyelid, it has a creamy finish. I love to use this as my day makeup. If I would to use this at night, I'll add more darker hues at the corner of my eyes. It's a pretty good investment I would say. It's also a collector's edition, so I hope it's still available at the stores and hasn't been all snatched up.
DIORBLUSH COLOUR GRADATION
This collector's edition also has the same pleating embedded on the palette just like the Colour Gradation Eyeshadows. The pleats are inspired by the Dior "plisse". Again, this palette is so pretty and put me on a dilemma to pick up my brush and do that first "swoosh" on the palette. Eventually I did so that I can try out the colors. It's pretty light even on the back of my hand. To have this color appear on my hand, I've to apply twice. I would definitely use this in the day. Probably I have to apply a few more times for an evening makeup.
DIOR ADDICT GRADIENT LIPSTICK
The packaging is so pretty, I find it hard to just take the first swipe. I was so happy that I finally made the decision. It made me smile just a little bit more when taking this selfie. This sensational lipstick comes in a tone-on-tone blend and it is enriched with lip care oil. The lighter shade in the center, creates a top coat effect. The hardest part is not making the decision whether to start using the lipstick and destroying the beautiful packaging but, with five combinations to choose from, which would you pick?
SCRUB AND GLOW
What make those beautiful models at the recent Dior fashion shows have pouty and bouncy lips? These!! The Lip Sugar Scrub and Lip Glow. It is super easy to use. Lip Sugar Scrub is an exfoliating and nourishing stick with grains of sugar that melts away. You don't even need water to rinse it. I usually use it in the morning right after my skincare routine and before I start applying my makeup. I let it sit while I start my makeup routine. If that day happens to be a busy day or staying-whole-day-in-the-office kind of day, I'll just apply the Lip Glow. The stunning plum color isn't too dark yet it makes my smile a little sweeter.
ROUGE GRADIENT
Since ombré is so popular these days (see my hair for the past 6 months and you will know), House of Dior explores a new way to enliven the lips by creating the first "lip shadow". One is suppose to apply a lighter shade all over the lips and then add a touch of the bolder color at the center of the lips. Or vice versa for the colour gradation effect. I didn't, so I just applied the darker shade all over and what you see in the picture was what I got. It has a matte finish and if you think it's a little too dry for your liking, you can always finish it by applying the Lip Glow.
DIOR VERNIS
Want to play with bold colors this spring? Here's your chance for a manicure boost! Dior Vernis comes in 4 vibrant and contrasting shades. All of them are bottled with a slightly pearly  silver-ish center and has a glossy finishing. I tried SUDDEN and living up to its name, it does draw much attention to my nails SUDDEN-LY. How did my manicure turned up so glossy (like a gel finish) without fingerprints on it? Read the tip and trick below:
*Tip & Trick: I brought my bottle of nail polish to a beauty salon and have the manicurist color it like a normal manicure. As a finishing touch, I was able to convince the manicurist to use a gel finishing instead of a normal top coat. So it's like a normal manicure layered with gel finishing as top coat. My manicure looked real good even after 10 days!
To be honest, I haven't tried the Diorshow Iconic Mascara, Diorshow Mono and Diorshow Proliner. I will keep you updated on Instagram once I've tried it. The Diorshow Proliner claimed to be waterproof. Well, I hope it doesn't disappoint. I also hope you've enjoyed my introduction and review towards Dior Makeup for Spring 2017.
What do you think of the Dior Spring 2017 Colour Gradation collection? 
*Pictures taken for Dior Makeup as sponsorship. Reviews and opinions are my own.
**Some visuals are provided by Dior Makeup.