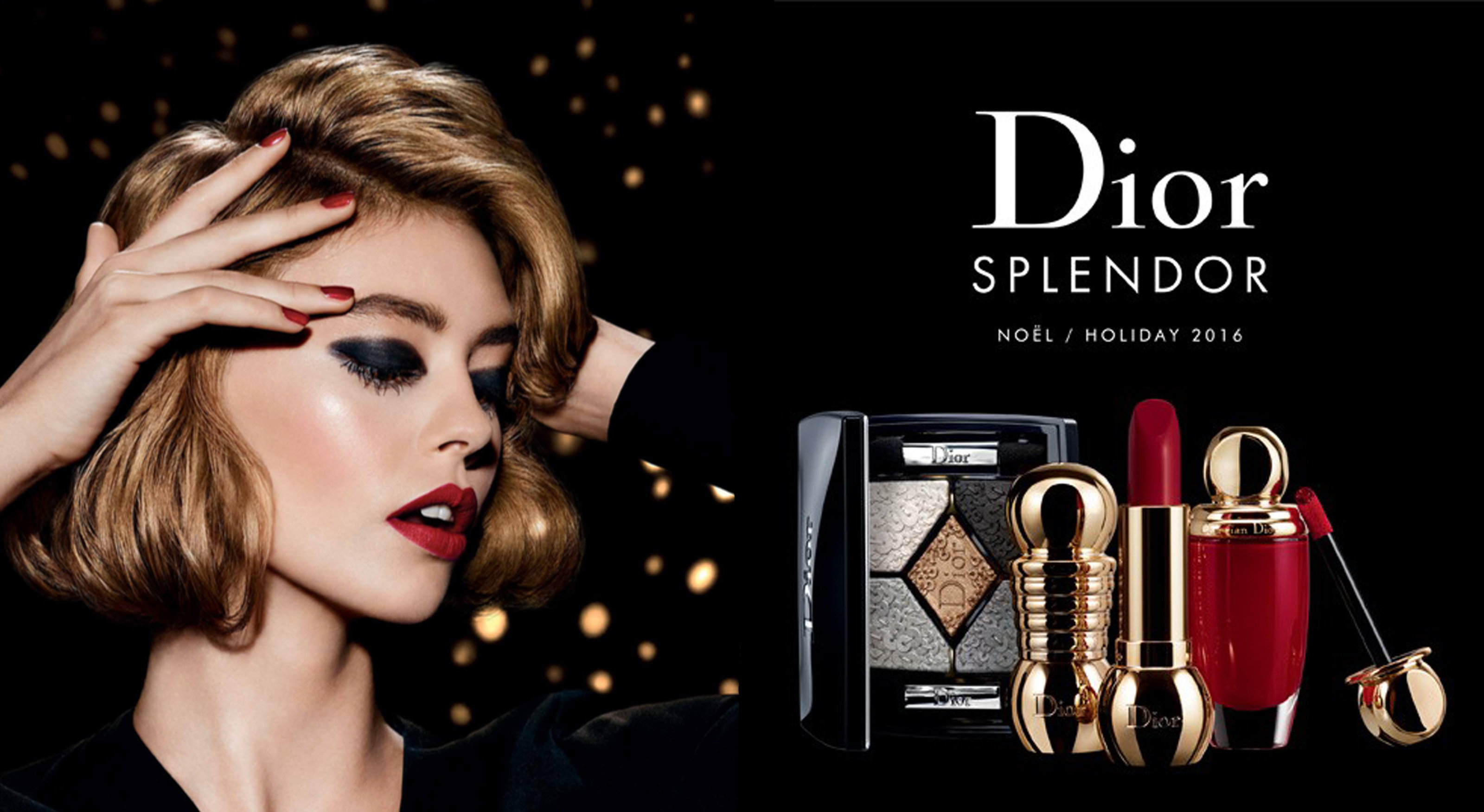 New Year Eve is just around the corner. I was pondering what to wear on New Year's Eve? Then, I came across a blog post that feature glitters on NYE and I thought, I'm going for GOLD! The next question is, what about my makeup? That's when I open my gift from Dior Makeup and be dazzled by Splendor Collection! Just by looking at the packaging, it immediately up lift my festive mood.
This Holiday collection was created by Peter Philips. There is wonder and dazzle in this Splendor edition, which, like a fine craftsman, draws inspirations from the artistry of Dior ateliers with sparkling sequins. This sophisticated femininity is liberated by a stunning palette of multiple facets and the rich pigmentation of matte and satiny hues that mix with ashes of gold, in-toxicating champagnes, electrifying fuchsias and garnet reds.
Splendor collection varies from lipstick, to lipgloss, eyeshadow, nail lacquer, blusher, tinted foundation and gold pressed powder. Let me share this  splendid collection with you. I believe, you too, will be fascinated with the collection.
Sparkling creations that bring out the beauty of a face with a golden glow.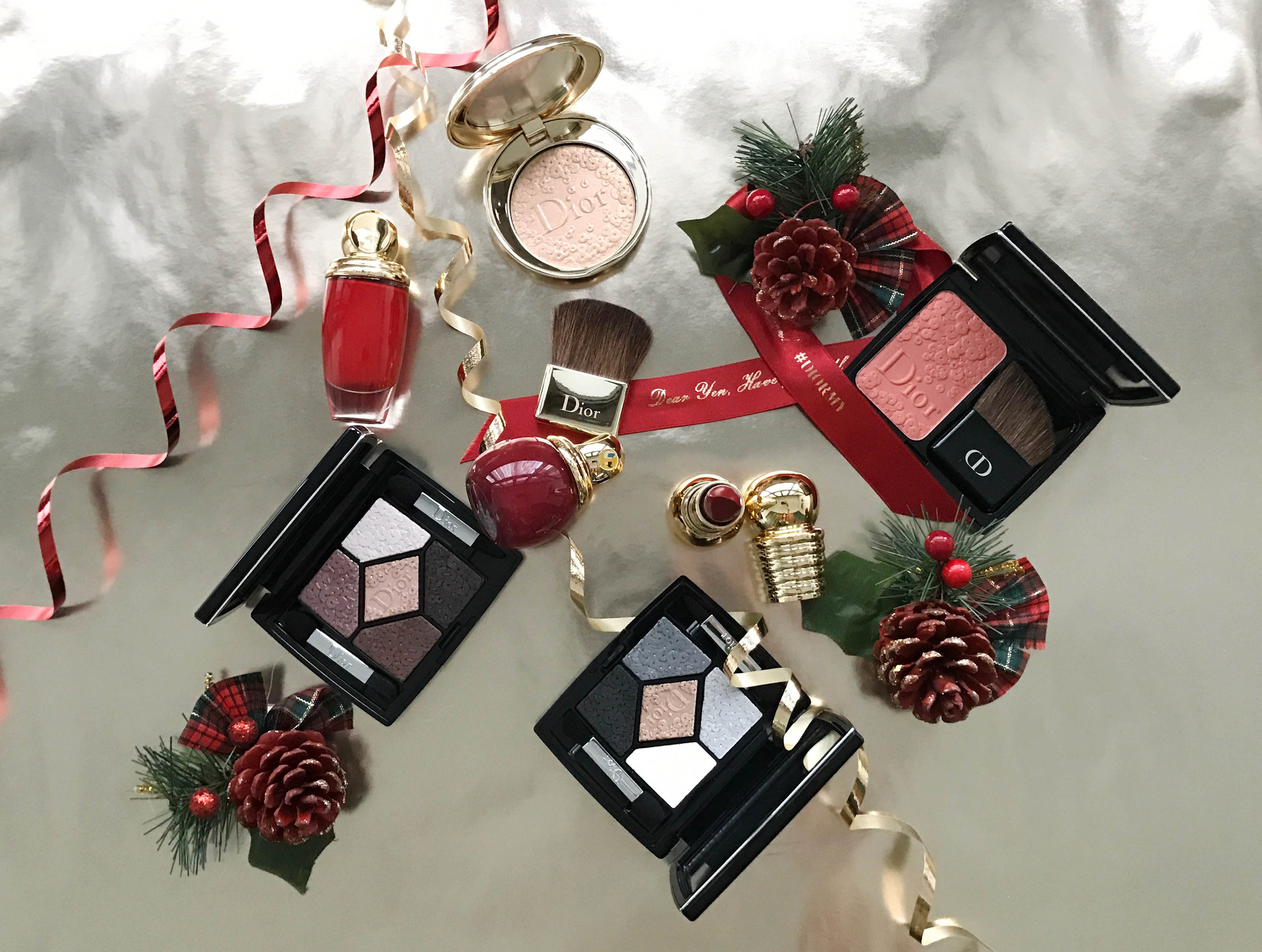 5 COULEURS SPLENDOR
These color palettes bears the sequin motif inspired by the work of the Haute Couture ateliers. They are available in two precious harmonies based on a gold patina or fresh gold effect. The colors are great and obvious with only one application. Though, the charcoal needs maybe 3-4 application if you want it to be dark.
Smokey Sequins (006) – Features a couture gradation of white, silver and charcoal around a bronze gold. It offer greater contrast for a hint of warmth in the eyes.
Precious Embroidery (776) – Delivers tones of pink, mauve and violet around a champagne gold that highlights the iris and lights up the eyes with a festive spirit.
DIORBLUSH SPLENDOR
In keeping with the sequin spirit, DIORBLUSH unveils a slightly shimmery apricot tone that suits any skin colour, enhancing the complexion with intriguing warm highlights. The color does stay pretty good with just one sweep of the brush on each cheek. So, do use it sparingly and blend them with Illuminating Pressed Powder for high cheekbone effect. Or you can use it by itself for a healthy glow.
ILLUMINATING PRESSED POWDER
The texture of this pressed powder is exceptionally fine. It blends seamlessly with the skin, bathing facial features in gold radiance. Soft, luxurious highlights are deposited in touches on cheeks and facial contours. If you're wearing a cold-shoulder top, this will be great on the décolleté for a glowing effect. I love this one so much! The results on my cheeks are amazing. If you're only getting one item from the Splendor series, I would highly recommend to get this one! I thought, this one definitely give Hourglass Ambient Lighting Palette a run for their money.
DIORIFIC MAT LIPSTICK
Diorific Lipstick is reinvented this season in five rich and liberated shades with a powdery matte finish in a light-weight, luminous and comfortable film. The "manifesto" shades include a fleshy pink, an ardent berry, a flamboyant red and a delicate rosewood for uncompromising lip definition. I used Splendor (950) and it's the 2nd most dark within the 5 shades. Fascination (880) is the darkest. On the first application, it was kind of berry-ish red. I applied twice to get the color I wanted (as seen on picture above). The lipstick isn't dry and it didn't chapped my lips.
DIORIFIC LIPSTICK – Golden (065) // Charm (440) // Ravissement (560) // Splendor (950) // Fascination (880)
DIORIFIC MATTE FLUID
Diorific Matte Fluid combines glamour with simplicity. This irresistibly delicate bottle harbors an incredibly fine texture that tinges lips and cheeks with a subtle, powdery veil of color, equally matte and radiant. This limited edition boasts four wildly modern shades, essential and velvety: soft pink, flamboyant fuchsia, rosewood infused with blue, and fiery red.
I added Luxury (004) on top of the Diorific Mat Lipstick for extra radiant and matte-ness. Luxury (004) can be a little overwhelming on the cheek. If you think it's a little too dark for your skin, blend it with a drop of liquid foundation to give you a very natural shade on your cheek. Luxury (004), is more suitable for an evening makeup. Rather, I highly recommend using Pleasure (001) for a day makeup or just everyday before you go out in the morning.
DIORIFIC MATTE FLUID – Pleasure (001) // Marvel (002) // Treasure (003) // Luxury (004)
DIORIFIC VERNIS
This nail lacquer comes in five statement colors with sequined accords, around a pearly heart in turns warm or cool. A captivating palette of colors to flaunt a bold look, whether you dare a dark berry with a starry center, a garnet red with flashes of gold, violet and fuchsia, a gold patina with metallic accents, or a dense pink streaked with silver.
I used Splendor (850) and I think the color is really vibrant! It dries almost immediately however, you do need a layer of top coat as a finishing touch for a shinier effect. The brush is broad therefore, it gets tricky especially on the sides. On thumbs, it worked great as I don't have to brush it many times.
DIORIFIC VERNIS: Nova (001) // Golden (328) // Precious (779) // Splendor (850) // Cosmic (899)
Here's a short video of the Splendor Holiday Collection. I hope you've enjoyed my introduction and review towards Dior Splendor Holiday edition. If you've tried any of them, let me know what you think of this collection.
Last but not least, I wish you a beautiful year of 2017! Tell me, where are you going to celebrate this year and if you have any color theme in mind?
*Pictures taken for Dior Makeup as sponsorship. Reviews and opinions are my own.
**Some visuals and video provided by Dior Makeup.